A new paper by Goodyear.et.al provides a summary to Activity-Centred Analysis and Design (ACAD) as an approach to understanding and improving complex learning situations.
It offers a practical approach to analyzing complex learning situations, in a way that can generate knowledge that is reusable in subsequent (re)design work.
The paper concludes by highlighting three core points about ACAD and 'what it brings to the table?:
Ways of reasoning about all the designable and inherited elements that situate students' learning activity.
An insistence on recognising students' agency, such that designed tasks must be distinguished, conceptually, from students' activity at learn-time. Only their activity has a direct connection to learning outcomes.
An over-riding commitment to methods of understanding and improving local educational situations – helping equip the teachers, designers and students who inhabit those situations to make sense of what is intended and what transpires.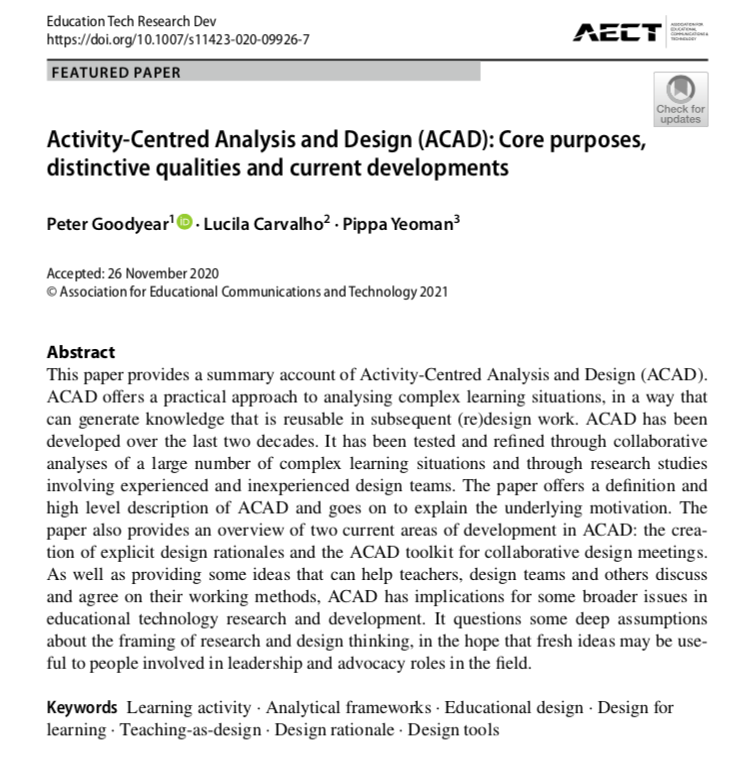 Originally tweeted by 💧Peter Goodyear (@petergoodyear) on January 12, 2021.